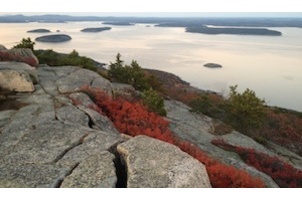 Photo: Karen James
| | |
| --- | --- |
| Participation fee | $0 |
| Expenses | $0 |
| Spend the time | outdoors |
| Location | Acadia National Park Maine USA |
| Appropriate for kids | no |
| Teaching materials | no |
Required Gear:
Clothing and footwear appropriate for working outdoors rain or shine.
BioTrails
| | |
| --- | --- |
| | Use DNA barcoding to ID animals, plants in Acadia National Park |
| | Collect invertebrate specimens in Acadia National Park. |
BioTrails will use 'DNA barcoding' to validate citizen scientists' animal and plant IDs in Acadia National Park, Maine, USA.
Though citizen science has the potential to dramatically expand the scientific workforce while providing opportunities for public engagement with science, there's a problem when it comes to projects where the fundamental task is identifying plants and animals in the field. These projects are limited by the amount of time and training required for participants to gain the skills they need to identify species, and usually rely heavily on taxonomic experts to both supervise participants while they identify collected specimens and also to validate and complete these identifications. This imposes a bottleneck that limits the scope and scale of such projects, no matter how many citizen scientists would wish to be involved.
DNA barcoding can help by extending taxonomic expertise to empower researchers and citizen scientists alike to identify organisms. DNA barcoding is a global movement to create libraries of short DNA sequences from known species, against which any specimen would be identifiable by its DNA alone.
BioTrails participants will collect and identify invertebrate specimens in the context of eelgrass habitat restoration in Frenchman's Bay and climate change research in Acadia National Park. DNA will be extracted from these specimens first to create a DNA barcode reference library for the study habitats, then use it for identification.
Our vision for this project is to establish best practices so that the BioTrails model can be expanded to other national parks and long-distance trails, paving the way for engaging more citizen scientists in more places to understand, monitor and manage biodiversity in a rapidly changing world.
BioTrails is a project of the Mount Desert Island Biological Laboratory in collaboration with the National Park Service and the Schoodic Institute and is supported by an award from the National Science Foundation (DRL-1223210).
---
---