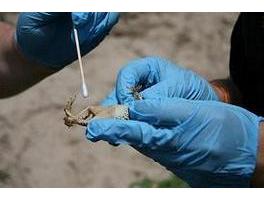 Photo: Omaha's Henry Doorly Zoo and Aquarium
| | |
| --- | --- |
| Rating | |
| Presented by | Omaha's Henry Doorly Zoo and Aquarium |
| Participation fee | $0 |
| Expenses | $25 |
| Spend the time | outdoors |
| Location | United States Locations where amphibians may be present (wetland, pond, etc.) |
| Appropriate for kids | yes |
| Teaching materials | yes |
Required Gear:
Some equipment is optional. Please refer to the protocol for more specific information, which is available at www.omahazoo.com/conservation/amphibian/global-crisis/
- Water quality testing materials
- Camera
- GPS
- Local amphibian field guide
- Waders
- Nets
- Chytrid sampling kits (see project website)

Amphibian Conservation and Education Project
To understand how Chytrid fungus affects amphibians.
Analyze water quality and test amphibians for the Chytrid fungus
The Amphibian Conservation Education Project aims to empower educators, students, and individuals to become involved in amphibian conservation efforts.
Through this project, participants will become field scientists by analyzing water quality and testing amphibians for the disease, Chytrid Fungus. Collected data is then used by local herpetologists (scientists who study reptiles and amphibians) to gain a better understanding of the species of amphibians being affected by the disease and where Chytrid is being spread.
---
---