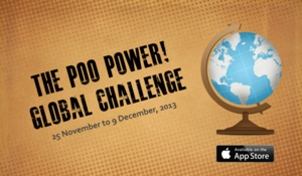 | | |
| --- | --- |
| Rating | (log in to rate this project) |
| Updated | 02/05/2016 |
| Presented by | Green Nation & Anthrozoology Research Group |
| Participation fee | $0 |
| Expenses | $0 |
| Spend the time | outdoors |
| Location | anywhere |
| Appropriate for kids | yes |
| Teaching materials | no |
Required Gear:
iPhone
Poo Power! Global Challenge
Mapping dog waste hotspots to improve sustainability
Use iPhone App to map dog waste in public spaces and parks
An invitation to 700 school-aged students from 25 different schools has been extended to the wider community to participate in a global competition. Students and classes will be pitched against each other to see who can identify the most and largest dog poo 'hotspots' in their local neighbourhood in the 'Poo Power! Global Challenge'.
Participating schools and students will use their GPS-enabled iPhone to download the free Poo Power! App from the App Store. Their task is to identify and map dog poo 'hotspots' in dog parks and public spaces from their neighbourhood over a 2 week period starting Monday 25 November 2013.
This eyebrow-raising initiative is a collaboration between dog poo entrepreneur Duncan Chew from Poo Power! and Mia Cobb from the Anthrozoology Research Group, recent winner of I'm a Scientist, Get Me Out of Here!
The collected information will be uploaded onto the Global Poo Map and provides a platform for students to discuss the scientific, social and environmental issues of dog waste. The students are then encouraged to write a letter to their local Government representative of their findings and recommendations.
"From our research only 3% of Australians see uncollected dog waste as an environmental concern," explains Duncan Chew. "When it rains, uncollected dog poo gets washed down drains, effecting water quality and habitat for native animals, as well as making rivers and creeks unpleasant for us to visit."
Mia Cobb echoes her enthusiasm for the initiative: "This is the great way to utilise the prize money from winning the IAS competition to raise awareness of new sustainable energy sources, environmental issues and responsible dog ownership while increasing student engagement in a citizen science activity."
The collated information has the poo-tential to identify sites for biogas-powered lights for parks as proposed by the Melbourne-based project, Poo Power!, currently in development. The methane that is released from the dog waste as it breaks down inside a 'biogas generator' can be used as a viable renewable energy source.
Competition prizes and giveaways are up for grabs for the most photo submissions received between 25th November and 9th December 2013.
Visit www.poopower.com.au for full competition details.
---
---