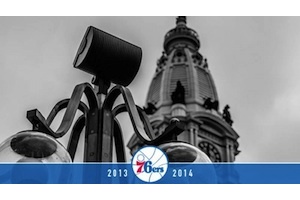 | | |
| --- | --- |
| Rating | (log in to rate this project) |
| Updated | 08/07/2016 |
| Presented by | SciStarter, Science Cheerleader, Franklin Institute, Phila Education Fund |
| Participation fee | $0 |
| Expenses | $0 |
| Spend the time | indoors |
| Location | Wells Fargo Center PA |
| Appropriate for kids | yes |
| Teaching materials | no |
Required Gear:
Citizen Science at the 76ers
Bring citizen science to the people!
Participate in science right from your seat at the 76ers!
NBA 76ers game to feature interactive science exhibits on the concourse, halftime performance by the Science Cheerleaders, in-game citizen science project for research on the International Space Station.
Project MERCCURI: Comparing Microbes from Philly to Those in Space
During the game, fans will have the opportunity to participate in Project MERCCURI, a citizen science research project to compare microbes on Earth to those on the International Space Station. Microbe collection kits wrapped in T-shirts will be shot into the stands during a time out. Fans will use the kits at the game to swab their shoes and cell phones to collect microbes. Those samples will be sent to Argonne National Laboratory to be sequenced and added to the Earth Microbiome Project.
Meanwhile, astronauts at the International Space Station will be conducting tests on 48 microbes collected previously from Earth, including EIGHT from Philadelphia: the Liberty Bell, The Franklin Institute, the Chemical Heritage Foundation, WHYY, St. Joseph's Preparatory School, Phillies stadium, 76ers stadium, and the Academy of Natural Sciences where microbes were collected by St. Peter's School students. Representatives from these organizations are scheduled to participate in the
Science on the Concourse Expo at the 76ers game on 2/18! Learn more about the significance of these Philly microbes here!
Scientists from UC Davis and NASA hope to gain insights into what is living at the ISS, how microbes vary from different places on Earth and in space, and to compare growth of microbes on Earth and in microgravity.
---
---