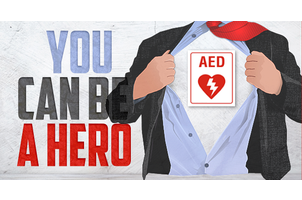 | | |
| --- | --- |
| Rating | (log in to rate this project) |
| Updated | 08/07/2016 |
| Presented by | Penn Medicine Social Media and Health Innovation Lab |
| Participation fee | $0 |
| Expenses | $0 |
| Spend the time | indoors |
| Location | online |
| Appropriate for kids | no |
| Teaching materials | no |
Required Gear:
Computer, design software, or crayon/pencils/markers and a scanner to upload
Penn Defibrillator Design Challenge
Raise awareness about life-saving AEDs through public art.
Submit a design related to AEDs to win prizes and save lives.
The Social Media and Health Innovation Lab at the University of Pennsylvania is currently holding a contest called the Penn Defibrillator Design Challenge (www.defibdesignchallenge.com). This project is an initiative at the intersection of public health and public art and is engaging the public to submit designs to surround an AED (Automated External Defibrillator). AEDs are life-saving devices used to shock the heart back to life during cardiac arrest, yet often go unnoticed by passers-by or are misunderstood as only being able to be used by medical professionals. In fact, the devices can be used by anyone and often make the difference between life and death for the cardiac arrest victim.
The project is aiming to collect innovative, approachable, memorable, educational, creative, colorful, and bold designs to draw attention to these devices that you probably walk by every day without being fully conscious of their locations. The project website is www.defibdesignchallenge.com, where people can join the contest by 1) submitting an AED design and 2) voting for their favorites. Designers can win more than $1000. Winning designs also have the chance to be installed as a design installation around a real AED in prominent Philly locations when the contest wraps.
*Note: all participants under 18 years of age need to submit with a parent or guardian.
The first AED design installation launched the contest and is featured now in Philadelphia's iconic 30th Street Station. This design uses "Twitter furniture" spelling #AED to create a conversation space around the AED as well as a conversation space on social media. The below stories show more about the first installation.
WHYY coverage: http://www.newsworks.org/index.php/local/item/64676-doctors-turn-to-designers-to-curb-cardiac-arrest-deaths Philly Mag coverage: http://www.phillymag.com/be-well-philly/2014/02/10/30th-street-stations-new-art-installation-help-save-lives/
---
---