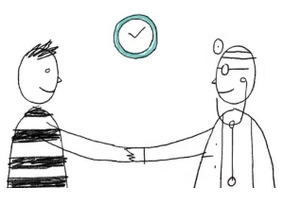 | | |
| --- | --- |
| Rating | (log in to rate this project) |
| Updated | 08/07/2016 |
| Presented by | Robert Wood Johnson Foundation |
| Participation fee | $0 |
| Expenses | $0 |
| Spend the time | indoors |
| Location | online |
| Appropriate for kids | no |
| Teaching materials | no |
Required Gear:
Computer
Flip the Clinic
Rethinking the provider-patient interaction
Provide suggestions for how to "flip the clinic"
The traditional doctor's visit is ripe for reinvention—both because it is such a valuable interaction, and because we know there are ways to make it better.
We believe that new tools, technologies, and strategies can empower people to be more informed and more engaged when they walk into the doctor's office and better equipped to improve their health when they walk out the door. And we believe that doctors, nurses, and other care providers can improve the ways they communicate and engage with patients during visits. We believe they can take advantage of new tools for monitoring, supporting, and connecting with their patients outside of the office, too.
We think that by tapping into these strategies, we could to turn the provider-patient interaction on its head—and promote better, more meaningful relationships while doing so.
Our goal is not only to create a specific set of practices that will improve the medical encounter, but also to inspire others to invent new ways to get more out of the clinic visit, too.
---
---