What Do Birds Eat?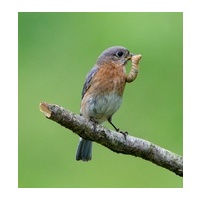 Presented By
University of Delaware
Goal
We need photos of birds eating insects and other arthropods!
Task
Take photos of birds with insects & other "bugs" in their bills
Where
What Do Birds Eat? United States
Description

We (Douglas Tallamy's lab in the Department of Entomology and Wildlife Ecology at the University of Delaware) are collecting photo contributions to an ongoing research project about avian diets-- in a nutshell, we are trying to figure out "what birds eat"!

If you have any photos of birds holding insects or other arthropods (spiders, etc.) in their bills, please consider submitting them on our site. Thanks to everyone who has already contributed!

How to Join

Simply upload your photos to:
https://www.whatdobirdseat.com/

Please submit in .jpg format and fill in the blanks to provide details about the date & location.

At this time, we are most interested in North American birds, but future research may expand to other geographic areas.

Website
https://www.whatdobirdseat.com/
Required Gear

Camera (any)

Internet access

Ideal Age Group
Elementary school (6 - 10 years), Middle school (11 - 13 years), High school (14 - 17 years), College, Graduate students, Adults, Families
Spend the Time
outdoors
Type of Activity
In snow or rain, At the beach, On a walk, run, On a hike, At home
Tags
bird food, birds
Project Updated
01/30/2018
You're now leaving SciStarter to join What Do Birds Eat?...
or
Good luck! Before you go, create a SciStarter Account so we can help you keep track of this project and more.
Create a SciStarter account
Already have an account? Log in.
What Do Birds Eat? uses SciStarter to manage their volunteers. You will need to log in or sign up for a SciStarter account to join.
Create a SciStarter account
Already have an account? Log in.