Caterpillars Count!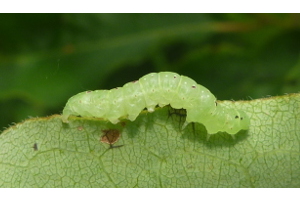 Goal
Monitor the seasonality and abundance of foliage arthropods
Task
Conduct surveys of arthropods on shrubs and trees
Where
Caterpillars Count!
United States of America
Description

Caterpillars Count! is a project that relies on citizen scientists (you!) to help understand some of the most important organisms in our ecosystems—caterpillars and other insects—by conducting surveys of the plants and trees around them. These insects are an important food source for birds and other wildlife, and they have economic and environmental impacts on our forests and crops. You can help us understand how the abundance of these bugs varies from rural countrysides to major urban areas, and from coast to coast.

Your observations can also help us track how the abundance of caterpillars and other insects varies over the seasons. The seasonal timing of caterpillar availability is especially important for birds which try to time their spring migration so that there will be lots of insect food around (caterpillars are an especially tasty treat!) to successfully raise their young.

Finally, you can visually explore the data collected by yourself or others to reveal patterns that scientists haven't even yet discovered!

Project Timing
We are primarily interested in monitoring arthropod phenology from the time trees leaf out in spring through the summer.
Website
https://caterpillarscount.unc.edu/
Social Media
App URL
https://play.google.com/store/apps/details?id=edu.unc.caterpillarscount.caterpillarscount&rdid=edu.unc.caterpillarscount.caterpillarscount https://itunes.apple.com/us/app/caterpillars-count/id1366400875
Ideal Age Group
Middle school (11 - 13 years), High school (14 - 17 years), College, Graduate students, Adults, Families, Seniors
Ideal Frequency
Per month
Average Time
Less than an hour
Spend the Time
outdoors
Type of Activity
At school, At a science center, zoo or aquarium
Training Materials
https://caterpillarscount.unc.edu/getStarted/
Class Materials
https://caterpillarscount.unc.edu/resources/
Media Mentions
and Publications
Tags
arthropods, biodiversity, caterpillars, phenology
Project Updated
05/21/2018
You're now leaving SciStarter to join Caterpillars Count!...
or
Good luck! Before you go, create a SciStarter Account so we can help you keep track of this project and more.
Create a SciStarter account
Already have an account? Log in.
Caterpillars Count! uses SciStarter to manage their volunteers. You will need to log in or sign up for a SciStarter account to join.
Create a SciStarter account
Already have an account? Log in.