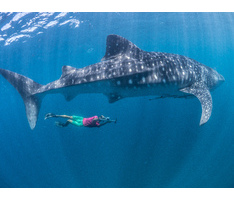 | | |
| --- | --- |
| Rating | (log in to rate this project) |
| Updated | 08/07/2016 |
| Presented by | 501c3 non-profit Wild Me |
| Participation fee | $0 |
| Expenses | $0 |
| Spend the time | outdoors |
| Location | anywhere Wildbook for Whale Sharks |
| Appropriate for kids | yes |
| Teaching materials | no |
Required Gear:
Wildbook for Whale Sharks
Track whale sharks globally in their migrations.
Submit whale shark photos from tourism and research.
Project locations:
Wildbook for Whale Sharks
The Wildbook for Whale Sharks citizen science program allows any member of the community to be involved in collecting important identification data on whale sharks. Citizen scientists across the world can take a photo of the spot patterns on the skin of a whale shark and enter the photo into this Wildbook. Wild Me (http://www.wildme.org) and the global whale shark research community will then use this photo as a way to identify the whale shark, determine their movements and if they have been seen in the same area before.
Wildbook for Whale Sharks is available for people to access around the world, so any shark sighting can be reported into the Library as an encounter. We have actively set up partnerships for this citizen science program in Indonesia, Mexico, Mozambique, Seychelles, Maldives, Galapagos, Belize, Honduras and Philippines, with many other countries interested in being involved. The Library currently holds over 50,000 photos and has received submissions from 4800+ people and 100+ researchers who have photographed whale sharks in 46 different countries.
Our citizen science project provides huge potential to increase the interest in science and conservation among community members using the unique combination of a flagship species (whale sharks) and the latest technology (the on-line data collection system used within Wildbook). It also provides the opportunity and skills for community to be involved in the natural resource management of their local area. Wild Me believes that the combination of awareness raising and capacity building among our community and, in particular, youth is a vital part of our marine environment's future.
---
---