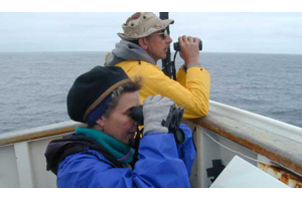 Photo: NOAA
| | |
| --- | --- |
| Participation fee | $0 |
| Expenses | $0 |
| Spend the time | outdoors |
| Location | anywhere |
| Children | yes |
| Primary school | no |
| Secondary school | yes |
| Teaching materials | no |
| Begin date | 2011-11-01 |
Required Gear:
Access to an seaworthy ocean boat (recreational, fishing, ferry, cruise ship);
Camera with zoom lens (vibration-reduction optional)
GPS
Binoculars
Clipboard or field notebook
Pen or pencil
Bird field guide (optional)

SeaBC Sea Bird Count
The SeaBC Sea Bird Count is a citizen science project organized by a volunteer group of long-distance birding sailors from around the world. The idea of a "SeaBC" was inspired by popular, long-standing land-based counts such as Audubon's Christmas Bird Count (CBC) and the Census Bird Count (CBC) in the U.K.
Our mission is to benefit seabird conservation by mobilizing the worldwide boating community to document ocean bird sightings, providing critical and seldom-recorded data on seabird abundance and distribution and on ocean migration routes. SeaBC sea bird count data goes to Cornell University's eBird database, where boaters' sightings become a resource for scientists worldwide.
Seabird knowledge is described as a frontier science: Last year a new seabird species was discovered and a species believed to be extinct was sighted. For some species, breeding or wintering areas remain unknown. This lack of knowledge is troubling given that BirdLife International estimates one-third of seabirds are now vulnerable or globally endangered due to threats from predators on nesting grounds, some fisheries, and plastics.
---
---